Warning
: strip_tags() expects parameter 1 to be string, array given in
/www/htdocs/w00877ff/wp-includes/formatting.php
on line
631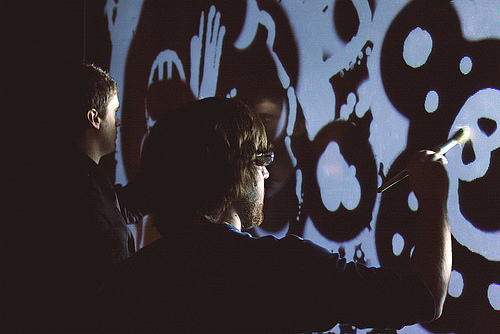 Guten Touch, eine Anwendung des Multitouch-Barclona Projekts, in Aktion (Quelle)
Hinter der Gruppe Multitouch Barcelona stecken vier junge Katalanen die sich das Ziel gesteckt haben, die Interaktion von Mensch und Maschine näher zu erforschen:
We believe that technology has gone far from humans so we try to bring it closer and add to it some human features that make it warmer and the user happier. When we started we knew that people gained experience through their senses. We thought that we could enter through these senses and trigger emotions. (Quelle)
Der Experimentierdrang der jungen Spanier führt zu überraschenden und überzeugenden Applikationen. Ein Beispiel ist Multitouch Crayon Physics:
Der Sourcecode dieser Applikation steht unter einer MIT-Lizenz zum Herunerladen bereit.
Eine weitere schöne Anwendung, die die Möglichkeit der Interaktion von Mensch und Computer auf spielerische Weise verdeutlicht ist Guten Touch:
Multitouch Barcolona ist Mitglied der NUI Group, einer Open Source Initiative, die für Natural User Inteface steht. Mehr Videos sind auf Vimeo einsehbar.
Verwandte Artikel: